Welcome To Five Fold Ministry
Mexico Short Term missions
Larry and Jimmie Lu Smallwood are from Hegins, PA and have been married for 13 years. They have been serving the Lord since 2005 on short term missions in Mexico.
November 2006
In November 2006 We returned to Quence de Enero and built our 3rd home on our 4th trip. This time we built for Ricardo and Guadalupe and their children. It was a blessed event when we turned over the home to this wonderful family that truely needed a new home.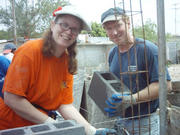 Larry and Jimmie Lu Smallwood
This photo was taken on the mission field in Mexico in April of 2006. Laying block is just one of the many jobs on the work site. In addition to construction we also do various evangelism projects in the colonial including revival and a prayer walk.
Our next project
In November 2006 Pastor David of the El Camino Church in Mexico showed us the old wood structure of the church and its damage. So in a 5 year $50,000 + construction we will work side by side with the church, Pastor David and teams of Volunteers to Rebuild El Camino United Methodist Church In Quence de Enero.